What to give for Christmas?

What to give for Christmas?
Christmas is the most magical time of the year when we spend time with our families and enjoy each other's company.
However, for many, Christmas also brings with it the added stress of gifting something for Christmas that will delight the recipient.
Gift giving has been a great passion and joy of mine. And today I'm going to try to share with you some tips on what to look out for when making a gift.
When the brand was originally created, a very big part of it was not only creating a quality product, but also the packaging that the product is in. I tried to choose the packaging so that the product would be immediately so called. The packaging was chosen so that the product was immediately gift-worthy and did not require any additional packaging. I also added a box under the product in the e-shop where you can write your congratulations. We will send the gift directly to the recipient with a personal card. The aim was to make gift giving easy for you.
Christmas gifts for women
It is a very broad concept. All women are different and special. When thinking about the woman you want to give a gift to, start by trying to remember what colour clothes she prefers to wear. What style of clothes she likes.  Very often, but not always, the choice of clothes is a reflection of a person's personality.
It's worth thinking about what his interests are and what makes his eyes sparkle. It's also worth thinking about what her shopping habits are. Whether he prefers to buy products that are environmentally friendly or not.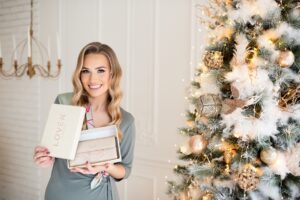 How to choose gifts for women?
One of the best experiences is to see someone else happy, and one way to make someone happy is to give them a gift from the heart. Of course, this requires a bit of analysis, because there is no point in giving a gift just for the sake of giving a gift. We are adding unnecessary things that are often left standing at the time of giving. Perhaps a very good gift is a practical gift that can be used often. Of course, you might think that I'm going to give my wife a frying pan … although this may seem like a brilliant idea for a moment. But women generally want something that will also be a hapiness and make them feel like a woman.
Another aspect to think about when giving a gift is gifts that a woman would like or need but would not dare to buy for herself. Compromises are made in favour of cheaper materials and perhaps inferior quality which is reflected in the price.
What to get your wife?
What to get your wife for Christmas? Most women like flowers and of course women like it when their wife sometimes bring flowers. In addition, women also like accessories and there are never too many of them. We combined flowers and accessories and designed women's purses with a peoney pattern in gift boxes.
The most difficult part is choosing which size and colour of purse your wife would like. It's tricky, isn't it, but let's try to figure out together which one would suit your wife.
Let's start with the size of the wallet, you could start with the size of wallet your wife is using today. If you're going for a more conservative approach, you might want to go for a wallet of the same size.  If your spouse doesn't have a wallet, I would recommend getting a smaller wallet as a gift, as it is easier to start with a smaller wallet if you are not used to using a wallet.
If your wife likes to go to the theatre, to parties, then the perfect gift for wife would be a LOVÉN 3in1 wallet. This is a practical wallet that can also be used as a shoulder bag. It also comes with a slim card pocket that can be used as a standalone. Two gifts in one.
If your woman has a lot of bank cards and needs a large wallet in particular, I recommend the large wallet with RFID data protection from the LOVÉN range. This large feminine wallet comes in a gift box and is available in several colours.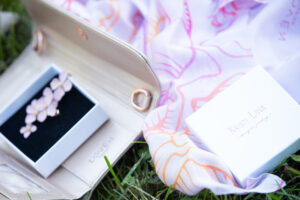 What to get your mother-in-law?
With Mother's Day and Women's Day approaching, sales statistics always show that people prefer to give scarves in boxes. When people ask me what I would recommend as a gift, one of the things I always go for is a scarf. Scarves are functional accessories that can be used all year round and have many different uses. In the gifts category, our scarves are particularly popular for this purpose and come in individual gift boxes.  The range of scarves is extensive and there is a scarf to suit every taste.
What colour scarf to give?
Scarves are a very cool accessory to add a little spice to your outfit. If your recipient only wears black, it's actually not a bad idea to give her a colourful scarf to contrast the overall look. If the gift recipient doesn't like bright and striking colours at all, a lovely and very neutral grey scarf would make a very nice gift.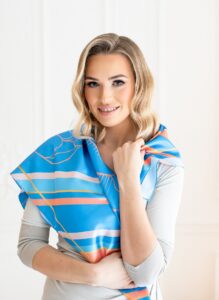 Which scarf to give as a gift?
Our range is divided into 3 categories : scarves in gift boxes, more summery scarves and scarves more suitable for autumn.
If your recipient prefers to wear a scarf only during the winter season, I suggest you choose one of our autumn scarves as a gift. When considering the shade, it's worth thinking about what colour his coat is and whether this colour would match it.
If the recipient likes to use scarves as accessories and wears them indoors, I recommend gifting them scarf in a gift box.
These 80×80 silk scarves are perfect for an office suit or to add colour under a spring coat.
Summer scarves are more suitable for spring and summer wear. Their pleasantly large size of 70×180 cm makes it possible to wear the summer scarf on the beach as a beach towel around the hips, to put it around the shoulders while sitting at the barbecue in the evening, or to cover your hair while driving down the highway in a convertible in summer.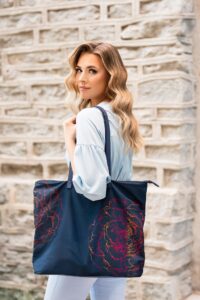 What to get a woman who works out?
If your gift recipient is a keen athlete who goes to aerobics, gyms, swimming or yoga for example, it's worth thinking about whether they might like a new gym bag?  As an alternative to a poncho and a large gym bag, I would offer you our "Functionally Everyday Bag". It holds what you need and as well as internal pockets, there are also pockets on the back of the bag where you can put your phone and water bottle. The bag also has the advantage of being waterproof and can be gently shampooed. The perfect gym bag that doesn't look like a gym bag but a feminine accessory. We have a choice of colours for you : pink, grey and dark blue.
What to get a woman who loves to travel?
Either travel to a warm country or just for a weekend to SPA. In this case, our functional everyday bag is a good alternative to the weekender bag. We've added a suitcase opening on the back of this bag, which makes it the perfect hand luggage for a flight or a few days at the Spa. You can put the functional bag under your seat on the plane and never have to be the first one to rush to the plane to secure a place for your suitcase in the overhead compartment.  The suitcase holder is very practical, especially when you're at the airport and moving around with your suitcase. As your hand luggage is securely attached to your suitcase, your hands are free and you don't have to carry an extra bag on your shoulder. The functional bag has a zippered top closure and a separate zippered inside pocket where you can put your passport when travelling. A good secure place to keep your passport and no panic moment at passport control.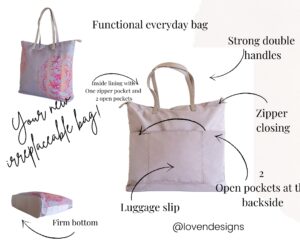 What to give a baby mum?
One of the big advantages of our functional bag is that it moves with you as your life changes. A bag that you originally had as a replacement for a plastic bag on shopping trips, used as a gym bag in the evenings, will become a really comfortable and practical baby diaper bag when baby arrives.
In the first half of the year, you'll have a million things to carry and it's important that everything is within easy reach. The two deep pockets on the back of the bag are especially nice, where you can put a feeding bottle and baby's favourite toy.  You can get these extremely important things really quickly and easily from the pockets and there's no need to zip up the bag when every second counts.
What to give a mother of a toddler?
When you're out and about with your horses, you may or may not need to carry extra equipment. And a handy stationary bag is perfect for the job. You'll always have a bag to carry the things you might need in the worst or best case scenario, and the bag is always with you. No more constantly repacking from bag to bag. And because this functional bag is washable, you don't have to worry about the slightest stain.
Mother and daughter set
If you're looking for gifts for both a wife and a daughter, a great gift would be to give them both similar products. It will definitely be a nice surprise for both of them, especially if the gift comes from the father.
Here I would like to suggest a few options. If the girl you are buying for is 6 years old or younger, I would suggest a set of pink umbrellas. For the mother a fully automatic pink umbrella and for the daughter a pink umbrella with manual opening.
If your daughter is older, a nice gift set would be a large and small pink purse. Or a large and small gold purse.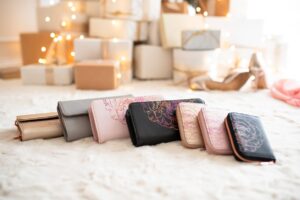 All our products are available in our online shop and delivery is within 2-3 days. If you want to receive your gift quickly, the fastest solution is to visit the LEVI Design Shop in Tallinn and Tartu, where the largest selection of LOVÉN products is available.