Mastering Scarf Tying 4 Techniques: Elevate Your Style
Mastering Scarf Tying 4 Techniques: Elevate Your Style
Scarves are more than just accessories; they are versatile style statements that can instantly elevate your outfit. Whether you want to add a pop of color, a touch of elegance, or a cozy layer to your ensemble, mastering scarf tying techniques is a must for every fashion-forward woman. In this guide, we will take you through a variety of scarf tying methods that are easy to learn and guaranteed to make a fashion statement. Get ready to transform your look with these expert tips and tricks!
Embracing Classic Scarf Tying Methods
Discover the timeless elegance of classic scarf tying methods that exude effortless sophistication. Explore the "basic loop," a simple yet stunning technique perfect for adding a touch of refinement to any ensemble. Dive into the world of the versatile "French knot," a go-to method that adds a dash of chic to your look. Mastering these classic techniques will enhance your style with grace and poise.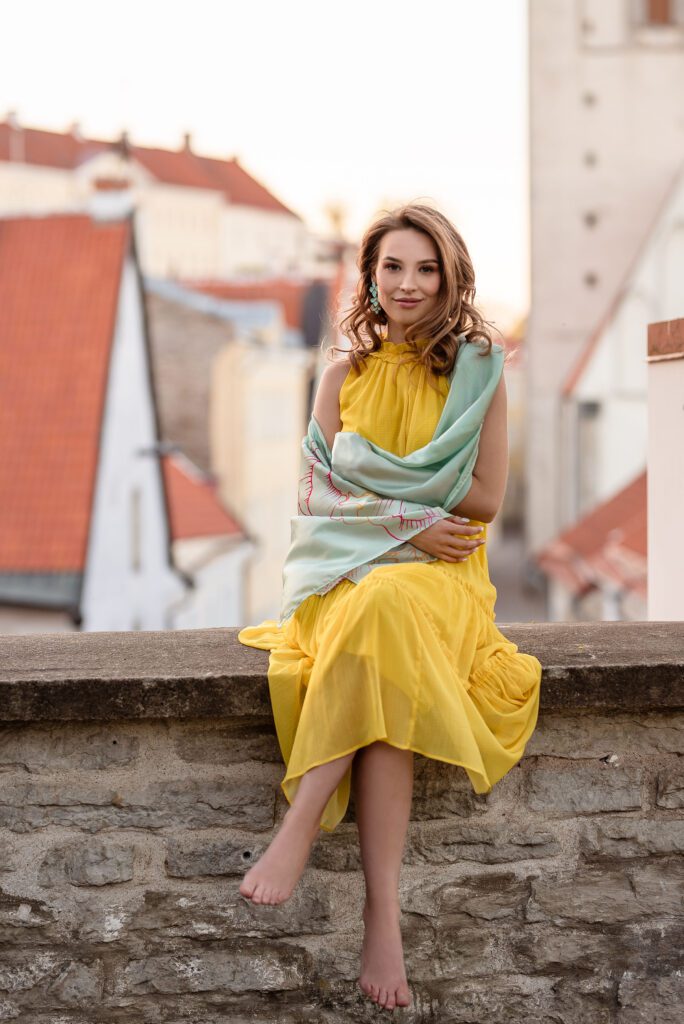 Unleashing Fashion-Forward Styles
Ready to make a bold fashion statement? Explore fashion-forward scarf tying styles that will turn heads wherever you go. Learn the art of the "waterfall drape," a chic and relaxed technique that adds a touch of elegance to your attire. Dive into the realm of the "twisted turban," a trendy and head-turning style that exudes confidence and uniqueness. Unleash your inner fashionista with these avant-garde scarf tying techniques.
Unleashing Your Creativity with Unique Tying Techniques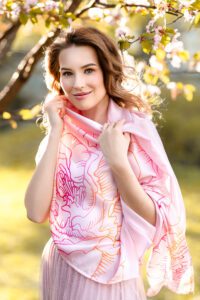 Step into the realm of creativity and self-expression with unique scarf tying techniques. Add flair to your outfits with the "belt loop" technique, transforming your scarf into a stylish accessory that accentuates your waistline. Discover the playful and feminine charm of the "bow tie" technique, perfect for adding a touch of whimsy to your look. These innovative and eye-catching techniques will set you apart from the crowd and make a lasting impression.
Adapting Scarf Tying for Different Necklines
Every neckline deserves a perfectly tied scarf that complements it flawlessly. Explore a range of scarf tying techniques tailored for different necklines. From V-neck tops to crew necks and turtlenecks, we'll guide you through the art of adapting scarf styles to enhance your neckline and create a harmonious and balanced look. Embrace the versatility of scarves and elevate your outfits with these expert tips.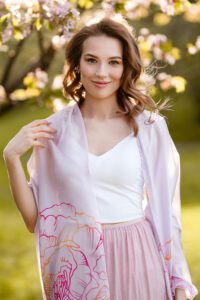 Scarf Tying for Different Occasions
Every occasion calls for a unique style. Discover scarf tying techniques that cater to different events and settings. Learn elegant and sophisticated styles that are perfect for formal events, adding a touch of glamour to your ensemble. Uncover effortless and relaxed looks that are ideal for casual outings, exuding a sense of comfort and style. With the right scarf tying techniques, you can effortlessly adapt your look to suit any occasion.
Embracing Seasonal Scarf Styles
As the seasons change, so do the scarf styles. Explore lightweight scarf options perfect for spring and summer, adding a touch of freshness and vibrancy to your outfits. Delve into cozy and warm scarf styles for fall and winter, providing both comfort and style during the colder months. Embrace the beauty of seasonal scarf styles and create captivating looks that reflect the essence of each season.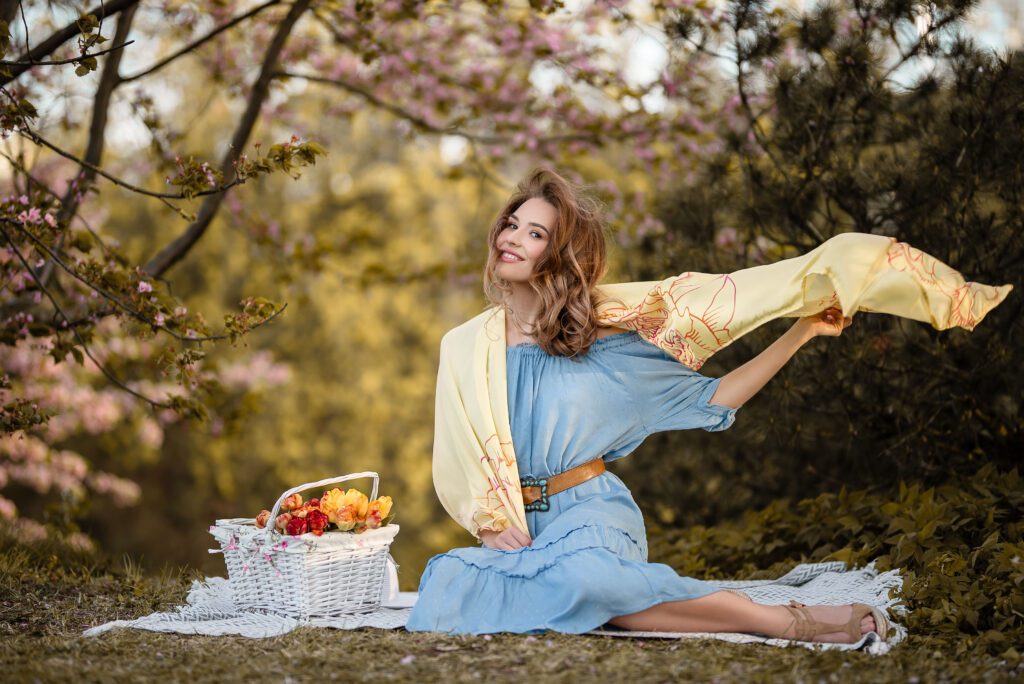 Here are the main 4 Scarf Styles you can use!

Scarf Style 1: The Classic Loop
Let's start with the timeless and effortless Classic Loop technique. This method is perfect for showcasing the pattern and texture of your scarf while keeping you warm and stylish. Here's how to achieve it:
Fold your scarf in half to create a loop.
2. Wrap the folded scarf around your neck, with the loop on one side and the loose ends on the other.
3. Pull the loose ends through the loop, adjusting the tightness according to your preference.
Voila! You've created an elegant and chic look that works well with any outfit.
Scarf Style2: The Neck Wrap
If you're looking for a cozy and stylish way to wear your scarf, the Neck Wrap technique is a fantastic choice. This method not only keeps you warm but also adds an extra layer of flair to your ensemble. Here's how to achieve it:
Start by placing the scarf around your neck, with one end longer than the other.
1. Take the longer end and wrap it around your neck once.
2. Adjust the length and looseness of the wrap to your liking.
3. Let the ends hang freely or tuck them into the wrap for a neater look.
4. This style works beautifully with chunky knits and coats, creating a sophisticated and fashion-forward appearance.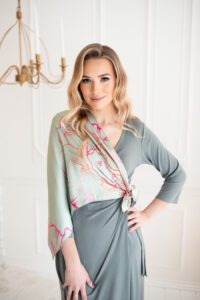 Scarf Style 3: The Belted Shawl
For a glamorous and statement-making look, try the Belted Shawl technique. This method allows you to transform a large scarf into a chic and trendy wrap that accentuates your waistline. Here's how to achieve it:
1. Drape the scarf over your shoulders, allowing it to hang evenly on both sides.
2 . Take a belt or a thin fabric ribbon and wrap it around your waist, securing the scarf in place.
3. Adjust the positioning of the scarf to create the desired effect.
This technique adds a touch of elegance and sophistication to any outfit, making it perfect for both casual and formal occasions.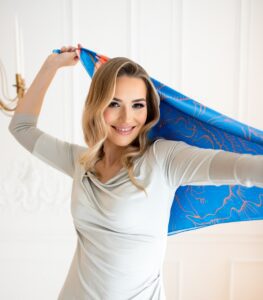 Scarf Style 4: The Head Wrap.
Scarves aren't just for necks; they can also be fabulous headpieces. The Head Wrap technique is ideal for adding a bohemian or vintage touch to your look while keeping your hair in place. Here's how to achieve it:
1.Fold the scarf into a triangle.
2. Place the middle of the scarf at the nape of your neck, with the triangle pointing down.
3. Cross the ends of the scarf at the front of your head and bring them back to the nape of your neck.
4. Tie the ends into a knot or a bow, depending on your preference.
5. This style is perfect for sunny days, bad hair days, or when you simply want to embrace your inner fashionista.
By mastering these scarf tying techniques, you can effortlessly elevate your style and create stunning looks for any occasion. Whether you prefer classic elegance, cozy warmth, or trendy accessories, scarves offer endless possibilities for expressing your unique fashion sense. So go ahead, experiment with different styles, and let your scarf be the ultimate fashion statement that showcases your personality. Get ready to turn heads and make a lasting impression with your newfound scarf-tying skills!
Find your perfect scarf from here now!